Racial injustice , Economic injustice and Peace ..
Mrs. Coretta Scott King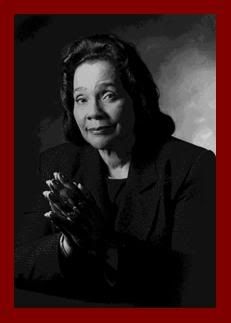 Rev King interviewed on when he first met Mrs. Coretta Scott King

"I think, on many points she educated me. When I met her she was very concerned about the things we are trying to do now. I never will forget the first discussion we had when we met was the whole question of racial injustice and economic injustice and the question of peace. In her college days she had been actively engaged in movements dealing with these problems. I must admit---I wish I could say-to satisfy my masculine ego, that I led her down this path; but I must say we went down together, because she was as actively involved and concerned when we met as she is now."

Excerpted from "Martin Luther King, Jr. A Personal Portrait", interview with Arnold Michaelis, 1967.
"These are the same issues that we as a black community face today in 2005. This is so sad but true. Its time for a change..
I'm prepared to make that change! Are you ? ThatsWhatzUp!!"
For click here video..