IRAQI ORDER 81 HOW DID THIS HAPPEN ?
HOW DID THIS HAPPEN ???



IRAQI ORDER 81...and they said that we were there to bring freedom
and liberty...it is time to tell the troops the truth How did this
happen? While few of us were paying attention, the Coalition
Provisional Authority, representing the government of the United
States, imposed a set of 100 orders on Iraq. A careful examination
of these orders could lead to the conclusion that the war is being
waged to enrich corporations at the expense of the ordinary



citizens. Many of these orders take freedom and liberty away from
the people of Iraq. The orders also have a profound effect on us.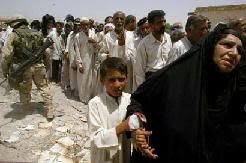 Iraqi Order 81 is of special interest because it goes a long way in
affecting every living being on the planet. This order prohibits
Iraqi farmers from using the methods of agriculture that they have
used for centuries. The common worldwide practice of saving heirloom
seeds from one year to the next is now illegal in Iraq. Order 81
wages war on Iraqi farmers. They have lost the freedom and liberty
to choose their own methods of agriculture.